Founder Nick A. had quite a full Monday! On the 10th, Nick took a day trip to Boston to visit and meet with four grantee organizations as well as three Foundation Ambassadors who live in the area. Here's how his busy day unfolded: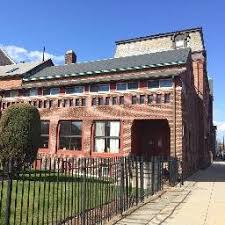 9:00am: A get together with Howard Novick and Cara Giovanoni from The Home for Little Wanderers, the organization for which Ambassador Alex Parks has advocated for the past few years. Nick's takeaway: the Home continues to commit its resources to well established programs that tackle the mental health needs of Boston's youth, and does so with a view of expanding upon those services year to year. Howard and Cara were gracious in acknowledging Alex Parks' ambassador advocacy, as well as that of his wife Leila who works in the Boston schools.

11:00am- Nick drove to Roxbury to view Fresh Truck's operational hub. There to greet Nick were Josh Trautwein and Annika Morgan, co-founders of the mobile fresh food market whose mission is to radically change the health of those community members their trucks visit throughout the Boston region. Nick's engaging conversation and visit included a "truck tour." Nick got to see and learn more about the retrofitted school bus designed to carry fresh produce and foodstuffs while also allowing paying customers to walk through and shop as they would at a farmer's market. Nick's takeaway: Robinson Greig, our ambassador advocate for Fresh Truck, has found a great grant fit incorporating health and food sourcing. Josh and Annika are folks with great vision and heart who see unlimited potential- a third bus is in the works!
12:30pm- Time for a quick bite at the Dudley Cafe in Dudley Square, followed by a meet up at 1:30pm with representatives from Budget Buddies and our Ambassador Kyla Gabriel, who volunteers with the program. Anita Saville, one of Budget Buddies' founders (soon to retire), Danielle Piskadlo, the new incoming Director, and Catherine Pedemonti, the Boston Outreach Coordinator were happy to chat about the history of Budget Buddies' expansion. Broadly, the group promotes women's empowerment through financial literacy programs. Anita, Danielle, and Catherine were just as energetic to learn of our background and unique funding model as they were in praising their trained volunteers who act as peer coaches for the women they teach. Nick's takeaway: Budget Buddies has succeeded in making an impact in women's lives, and will continue to do so, if for no other reason than the commitment and passion demonstrated by Anita, Danielle, Catherine, and Kyla!
3:00pm- How nice for Kyla to join Nick as they drove to East Boston for a discussion with Shakira Floyd from Crossroads Family Shelter. What a nice connection we've made with them through our ambassador Micaela Ryan, who has advocated for three grants on behalf of the organization. Crossroads houses 27 families, assists in their out-placement, education (including Budget Buddies programming), and other social service needs. Shakira was grateful for our funding, which has mainly supplied bedding, baby cribs, and move-out kitchen supplies to families. Her poignant description of the shelter's activities and family life, as well as reflection on the city's expanding needs, particularly struck Nick. We're humbled to have a three year history with Crossroads, the only family shelter in East Boston.
5:00pm- Navigator Kyla and Driver Nick then headed for Cleary's, an Irish pub which in the Back Bay area of Boston. They enjoyed some casual downtime, catching up over beverages and some pub fare with two other AFF ambassadors, Alex Parks and Betsy Kirtland. Nick's takeaway: it's nice to connect the dots of those passionate grantee contacts in the Boston area with a few of the ambassadors that made those contacts and our philanthropy happen! Our other Boston-based ambassadors Robinson Greig (Fresh Truck), Micaela Ryan (Crossroads), and Cassidy Blundell (Youth Cities) were knee deep in professional obligations that afternoon - we'll catch up next time!
7:00pm- Nick was on the road again, this time thinking to himself: What a fun day to see so many wonderful people! And, how cool would it be driving the Fresh Truck home to the Hudson Valley?